Submerged cables are used in a wide range of systems and applications that are installed and operate in complex underwater and marine environments. One of the biggest challenges in designing these solutions is navigating the diverse requirements and overcoming technological barriers to ensure the submerged cables meet these requirements and perform in the long-term. For example, submerged cables that need to transmit power and data between different islands in an archipelago will be vastly different to cables that protect critical offshore assets and cables that deliver data for freshwater water supply.
It takes extensive technical knowledge and experience to understand and overcome these challenges, especially when considering the different factors at play for each application. We'll explain these factors in detail later on in this blog post, but to quickly illustrate this point, consider the effects of saltwater versus freshwater on submerged cables.
Marine water environments have specific impacts on submerged cables that include oxidation, anodic corrosion, live current, waves, aquatic species, rocks, and more. While freshwater isn't nearly as corrosive as saltwater, it comes with its own unique set of challenges. These include ice and extreme temperatures, pollution or foreign substances, and the need to protect environmental assets.
Examples of submerged cable applications
Submerged cables that transmit power and, in some cases, data for

underwater operational and security systems

, sonar and acoustic monitoring, and detection and tracking for military and civil purposes.

Hybrid power and data cables for connecting with and protecting valuable coastal and offshore assets such as wind farms in marine environments, aquaculture farms in both Marine & freshwater locations, ports, naval bases, oil & gas terminals, offshore platforms, underwater pipelines and cables, and nuclear power facilities.

Submersible and pump cables for pumped energy and similar applications

that transmit power to submerged electrical equipment and sometimes offer control features in water of varying depths and under different pressure ranges.

Cables that transmit electric power and often data below the surface of watercourses such as fjords, lakes, canals, and river crossings, for example, to connect between a mainland and different islands or even different countries.

Cables installed in underground ducts subject to flooding or in waterlogged ground

, for example in mining environments where other corrosive fluids such as slurry are also common.

Data cables installed in potable water supply and sewage systems

. These cables are used to connect between and monitor different components of these systems and/or to transmit data to end users using existing infrastructures in congested areas and large cities.

For some of these applications such as underwater operational and security systems, these submerged cables can also integrate distributed sensing technology. This technology enables the continuous monitoring and measurement of a great amount of data and factors such as temperature, pressure, sound, vibration, and strain along the entire length of a fiber optic cable.
Unique applications require unique solutions
As mentioned above, the range of underwater applications requiring submerged cables is diverse. Each of these environments, whether it be freshwater, marine water, brackish water, chemically-treated water, waste water, or potable water, has its own set of unique hydrodynamic and mechanical forces that need to be taken into account during the design, installation and maintenance of these cables.
This means that there is no "one size fits all" for these cables as each application requires a unique solution. For this reason, it's important to consider the following factors when evaluating submerged cable systems.

Examples for design considerations:
Type of application: Application type and function
Main features: The cable purpose, signal, control, power combination of part or all
Depth: the expected depth of the installation
Environments: The common factors to these particular environments, For example, in marine environments especially when installed closer to shore, cables will be exposed to anchors, debris, underwater waves, rocks, and more
Compliance: Type of compliance required, ratings, government certifications, international standards, environmental standards, and more
Water type: saltwater, fresh water, brackish water, chemically-treated water, waste water etc require at times different design considerations
Frequency of exposure to water: cables are submerged for the entire life of the application, or partinaly exposed to water or spray intermittently
Temperatures: temperature range to be designed
Buoyancy: designed buoyancy negative, neutral, or positive
Teldor can help you find the most effective submerged cable solution for your needs
At Teldor, we have extensive experience in navigating these complex requirements together with our customers – both in terms of cable design and in terms of installation challenges that may arise. We use advanced precision-engineering and development techniques to develop, manufacture, and supply tailor-made, optimized, and cost-efficient submerged cable solutions that meet the specific requirements of our customers' underwater a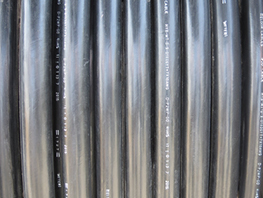 pplications.
We offer a wide range of submerged cables designed for different depths of down to 500 meters (50 Bar) and using special materials and coatings for varied water sources and environmental conditions such as marine water or fresh water environments. Depending on the application for which they are designed, these cables can be used in installations where route availability and space is limited; combine a high level of flexibility with high tensile loads; and offer full resistance to radial ingress (water penetration), crush and compression forces, high mechanical stress, hydraulic pressure, a wide range of temperatures, and corrosive elements common to underwater and offshore environments. Our submerged fiber-optic cable solutions, which meet all international requirements for fiber optic performance, have a high fiber count and are specifically designed for high bit rate communication in underwater installations.
At Teldor, we understand the importance of engineering design services when dealing with challenging underwater applications. For this reason, we work together as a team to translate our customers' requirements into cost-effective and long-lasting submerged cable systems with an estimated minimum lifespan of 25 years.